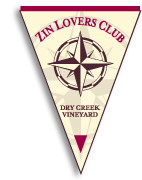 The Dry Creek Valley has become known as the cosmic epicenter for great Zinfandel in California. We could not agree more! Since 1973, we have produced fantastic Zinfandels that have remained true to the varietal with an emphasis on balance and food friendliness. You'll never find an overripe or high alcohol Zin here. With a wide array of terrific Zinfandels in our lineup, it's only natural that we have a wine club that focuses on this exciting varietal.

The Zin Lovers Club is just that – for lovers of great Zinfandel! Every year, we send you two shipments – one in the spring and one in the fall – of our terrific Zins. Each wine expresses something different about the varietal. Whether it's the Beeson Ranch Zinfandel, which was planted in 1882, or our fresh and delicious Rosé of Zinfandel (called Petite Zin), the wines are as diverse as the grape. Due to the limited production of our single-vineyard Zinfandels, we have to limit this club to the first 400 members.

We invite you to join this exclusive club and enter the world of great Zin!

Click here to join, or call Salina Littleton at 707-433-1000 ext. 123.